POSTS
Risk factors for depression and anxiety in doing a Ph.D.
by Luis P. Prieto,
- 15 minutes read
- 3054 words
As a follow-up to the first post in this blog, I dig a little deeper in some of the research on anxiety and depression during doctoral studies, to find "risk factors" and "correlates" that seem to often come along these depressive symptoms. I hope that the awareness of these factors (from gender to other things you can actually change in your everyday life) will help you understand why some people struggle doing a PhD, while for others it seems a piece of cake. Change what you do and put the odds on your side!
As we have seen, depression and anxiety are an increasingly common ailment of Ph.D. students. So much so that, if you don't experience these symptoms yourself during the Ph.D., chances are somebody else around you (e.g., a colleague, or a friend) will.
The good news is that many of these studies that determined how frequent mental health issues are in the Ph.D., also investigate what factors seem to correlate (and how much) with symptoms of anxiety or depression (or stress in general). Let's review the most common ones.
The Big Five
As it often happens when you start reading research studies on anything, each study is a bit different, measures things differently, was done on a different population… so it is hard to have a single, very accurate picture. Yet, there are five factors that appear again and again in the studies on doctoral student mental health:
There are plenty of other factors that have been studied, but either their change in odds is small9, or there is not enough agreement about them across studies. There is also the issue of whether these factors are causes or effects. When reading this, one should bear in mind the old adage: "correlation is not causation". Most probably, the relationship between depression and these demographic and contextual factors is quite complex, with confounding factors and feedback loops. The way I see it: the Ph.D. is a highly uncertain, intense, ill-defined process where often long stretches of time pass without any meaningful feedback about whether you're making any progress. Hence, it is crucial to have a variety of social (and economic) support to remind you that you are a worthy human being (and to lower the stakes of such huge effort).
But wait, you may say: why are you telling us about these risk factors, if they are all things we have little control about? It is not like we are going to have kids or change gender just to protect ourselves from depression. It is true that these demographic factors are the most studied so far, probably because they set some kind of baseline, your starting point for the odds of being depressed. But, once you know this starting point, this is when the fun begins…
What can you actually do?
One interesting thing about many of these studies on risk factors for anxiety and depression, it that they run these regression models on multiple factors, which includes some measures of how predictive they are. For example, some paper2 might tell you that their R-squared was 0.2, meaning that their model (taking into account supervision, gender, and several other things) explains only 20% of the variance of the data. That also means there is an 80% of the variance (read: whether you get depressed or not) that must be due to other things: personal factors, individual circumstances and events, etc. This is compatible with the arguments of many positive psychologists, which say that our happiness is a composite of genetic factors (about 50%, according to some accounts), our current circumstances (10%), and an ample 40% for what they call "intentional activity", i.e., things we can actually do to change our happiness levels 10.
So, has science also studied what Ph.D. students can do to avoid depression and anxiety? Yes. Kinda. Truth is, the evidence on these is normally from smaller, non-representative populations (e.g., there is a ton of studies on just psychology doctoral students). Thus, there are not big guarantees that the results will apply to you. In any case, here are a few ideas:
Put the odds on your side
In summary, it seems that there are a few demographic and contextual factors that seem to be related with higher chances of depression and anxiety - but while they seem to be cumulative, they are not ultimately decisive. Everything in life is a bet, so for this one:
If you are a Ph.D. student, it is probably good to know your base chances, given the factors above… but also to know what you can do to prevent it (or at least put the odds on your side). Along with the diagnostic tools we saw in the first post, this gives you a basic toolkit to see how you're doing, understand that many in your position have had similar trouble, and do what you can to help yourself or seek help.
If you are thinking of starting a Ph.D., maybe take a look at these factors. If you tick many of the "bad boxes" above… this does not necessarily mean you shouldn't do it. Diversity is one thing we need in many fields, science included. But rather, understand that it may get difficult at times, that you need to brace yourself, be especially careful in the preventive side and go for it if that's what you want!
If you are a supervisor (or a university decision-maker), you may want to check with your students: what is their economic situation? do they have a social circle to support them? are they sleeping? You cannot take many lifestyle choices for them, but there are things among these factors that you can influence (maybe rethink that "laissez faire" strategy, if that's your advisor style).
If your are friends or family with a Ph.D. student, you can also do a quick factor assessment, and be especially attentive if the odds look bad; check in with them from time to time, get out and spend some quality time with them. As you saw above, that alone can go a long way. Telling them about these studies probably won't hurt either.
Despite the depressing tone of all this, do not despair! I also see every day doctoral students that are curious, engaged, having a blast learning to be researchers. Knowing that other, darker paths exist, and knowing your odds, is just a start towards avoiding them. Let us see what other things we discover to keep ourselves on the bright side of science.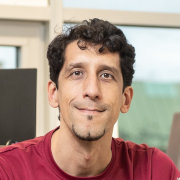 Luis P. Prieto
Luis P. is a Ramón y Cajal research fellow at the University of Valladolid (Spain), investigating learning technologies, especially learning analytics. He is also an avid learner about doctoral education and supervision, and he's the main author at the A Happy PhD blog.