POSTS
Notes on chronobiology for the PhD (II): The science of breaks
by Luis P. Prieto,
- 10 minutes read
- 2055 words
Being the "cognitive athletes" they are, PhD students (and researchers) should take rest very seriously, to perform at their best. Yet, not all breaks are created equal: timing and other factors affect their effectiveness. Continuing previous dives into chronobiology and taking holidays, this post goes over evidence-based tips and tricks to make your breaks the most restorative and energizing.
In a previous post, we saw that the timing we choose to do certain things (e.g., analytical or creative tasks) has an impact in our performance. As it turns out from research studies, timing also has an impact when we do *no-*things. We already covered tips and studies about longer, multi-day breaks in our post on taking holidays. Below, I go over tips and tricks to make your smaller breaks (within a workday, sometimes also called micro-breaks) more effective and energy-refilling. If you want to know more about this topic, Dan Pink's book When1 has a great, evidence-based introduction to the subject.
The perfect break
We have all had the experience of taking a 15-minute "email break" when writing a paper, only to find out that, when going back to writing (maybe one hour later!), we are more tired and less motivated than when we took the break. What is going on? How to avoid this kind of un-helpful breaks? In his synthesis of research studies about the science of taking breaks, Dan Pink points out five characteristics that make breaks most effective:
Criteria #6: Varied breaks
Another important aspect mentioned in Pink's book is to introduce a bit of variety in your breaks. Doing different kinds of break activities (which have different benefits) could be useful at different moments during the day.
Meditation (be it a simple body scan, paying attention to breathing or eating mindfully) can be an excellent source of calm and focus, and does not need to take more than a few minutes. Plus, mindfulness may have many other long-term benefits9. Personally, I find this kind of break especially useful when I have to change gears from some other complex project that makes my mind swirl with thoughts or feelings. Even short meditations seem to help with calming down those overexcited trains of thought and focusing on the next task at hand (additional tip: writing down in a piece of paper some of those thoughts/feelings may also help our brains off-load and be sure all those "open loops" will not be forgotten).
Breathe. Even without the meditative component, breathing exercises are a very powerful tool for accessing our nervous system, be it for calming ourselves or for boosting our energy. You can read entire books on the subject of how to breathe10, but I have found out that learning just a few simple breathing techniques can give you enough tools to enhance most of your breaks. You can use them to calm after stressful situations (e.g., the square breathing practice), to fall sleep, become more awake, or to regain balance (see the three breathing techniques mentioned in this TED talk by yoga teacher Lucas Rockwood).
Positive emotions. As we saw in a previous post about engagement in our happiness at (research) work, regularly activating emotions like humor, awe or joy is essential to our wellbeing. And breaks are the perfect moment to do so. Use your favorite uplifting song, or share some jokes with a labmate. We can also get an extra motivation boost if, just before coming back to the task at hand, we remind ourselves about our larger purpose.
Lunch. Although snacking/eating during breaks is not as crucial as other factors mentioned above, we still need nourishment to function at the best of our ability. Thus, skipping lunch to continue working is not an option. It is actually the perfect opportunity to put in practice many of the other tips we've seen: if possible, have lunch socially (especially, with people you like), away from the office/lab… you can even do it in a nearby park or under a tree, if you have one nearby. Do not let this opportunity to feed yourself, physically and mentally, pass unnoticed!
Naps. The science of napping effectively could itself occupy a whole post. Here, just the highlights: napping has a host of benefits, from increased alertness, attention, memory, reasoning and problem solving capacity (plus the physical benefits like better immune system and health). Length-wise, shorter "power naps" of 10-25 minutes are most efficient, as they pack most of the benefits and avoid post-nap grogginess. The "after lunch dip" in attention that most people experience (see our previous chronobiology post) is probably the most natural moment to nap. Also, there seem to be benefits to the regularity of napping (e.g., doing it every day, rather than only occasionally). If you are into caffeinated beverages, some people like the "nappuccino", in which you take a coffee just before the (short) nap so that, when you wake up from it, you get the alertness benefits of both the coffee and the nap (caffeine takes about 20 minutes to kick in). Yet, despite all the (average) benefits of napping, be careful with these siestas if you are prone to insomnia or have trouble sleeping (as naps decrease adenosine pressure on our brains, which is critical to fall sleep at night11).
Phew, that was a lot of information! I hope this intense tour of the science of resting and recovering from work was useful. Yet, do not overthink it, or try too hard to have "the perfect break": probably this, like many other things in life, is an issue of "diminishing returns" (20% of the tips and tricks I mentioned will get you 80% of the benefits of a good break). Worse, the obsession with tuning your breaks can become yet another source of procrastination.
So, if you have been working hard for 25 minutes, an hour, or whatever time you had set for yourself, get off that chair. Take "a short walk outside with a friend during which you discuss something other than work."1.
You can thank me later.
Do you have any other "break tips" that have worked for you, which you would like to share with fellow PhD students? Let us know in the comments section below!
Header photo by Georgios Kaleadis via Flickr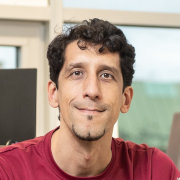 Luis P. Prieto
Luis P. is a Ramón y Cajal research fellow at the University of Valladolid (Spain), investigating learning technologies, especially learning analytics. He is also an avid learner about doctoral education and supervision, and he's the main author at the A Happy PhD blog.