POSTS
Chronobiology addendum: A neurobiologist's guide to a healthy and productive day
by Luis P. Prieto,
- 14 minutes read
- 2812 words
In previous posts, we have seen how chronotype can influence our productivity, and how we can tweak our breaks to make the most of the ebbs and flows of our daily energy. But, how exactly can we use this chronobiology knowledge to craft a daily routine that is both productive and healthy, and fitting to our particular situation? In this post, I borrow from the habits and routines of an expert on the topic (Stanford neurobiologist Andrew Huberman) ten easy protocols you can put in practice to make every day your best day.
As you may have guessed if you have read the blog for some time, I am fascinated with how we humans work. One thing that always surprises me is how, some days, my energy, my concentration levels and humor are so high that everything feels effortless; and others, it's like swimming in molasses (and, sometimes, both feelings come on the same day!). Fortunately, the more I learn about research on chronobiology and the physiology of sleep, the more these variations start making sense. Yet, there is so much research (and non-evidence-based advice!) out there, that I am oftentimes confused about what to implement in my own life. How to prioritize health and cognitive outcomes, but also have enough time to do what is important for us (like finishing that godd%&$%d paper)? Aren't there any cheap, simple, time-efficient actions we can take quickly, and get on with our day?
I was trying to build up such a catalogue of habits and advice by myself, through a lot of reading (and a lot of haphazard trial and error)… when I came across this podcast episode from the Huberman Lab. Andrew Huberman is a neurobiology and ophtalmology professor at Stanford, who shares some of the same interests. In this episode, he put together 17 daily habits (what he calls "protocols"), which he uses at specific times throughout his day to stay both healthy and effective. Since he is a (quite productive) researcher, I figured many of these habits would also work for me, and for any doctoral students or more senior researchers reading this.
If you have two hours and would like the full nerdy detail of the 17 protocols and why they work, I heartily recommend hearing the full podcast episode. If you want a quick (and partial) summary you can implement right away, you can just read on below.
I have selected the ten habits I think could be most generalizable to PhD students and researchers across the board. I shied away from nutrition or supplementation advice, whose effects probably depend a lot on your genetics, particular situation, history… and especially, on your target/goals (what is each of us trying to "optimize" for? longevity? weight loss? cognitive performance? at what costs?). In this sense, these protocols have been selected by Huberman according to his goals (which seem to value more work productivity than, say, physical performance), and circumstances (he is apparently single and, as an academic, he has certain freedom of schedule). Your circumstances will certainly be different, so not all habits may fit you. But they seem good starting points to try out and assess for yourself.
Ten science-backed habits for a healthy and productive day
Implementation tips
How should we use this list of habits? Is it all-or-nothing, or is it OK if we don't do one of them? My impression is that implementing as many of them as you can, within the flexibility that your particular circumstances allow, will bring benefits. The good news is that these are free tools, and many of them do not really take up that much time. I also like the "bookending" approach they take: they tell you what to do at the beginning and the end of the day, but they leave the rest quite flexible. Other quick tips I've come across when trying to put these routines in place, include:
Be creative. Although these practices seem very regimented, they can be implemented in many ways, and could probably be meshed into our existing obligations. Do we have to take calls in the afternoon? Why not do it while we walk in the sunset (point 8)? Do we have a balcony at home? Why not do our first stretch of focused work sitting there and getting our sunny dose (points 3 and 5)? Walking our dogs or taking kids to school on foot, instead of going by car (point 2), etc.

Customize to geographic and life context. These habits were devised by someone single, living in the temperate climate of California. Use your judgement and change them as needed. For instance, going for a run at midday is probably a bad idea if we are in Spain in the summer, but it might our best bet to get some rays of sun during a winter in Estonia.

Do combos, i.e., stack multiple routines so that we do them simultaneously or in rapid succession. For instance, sleep expert Matt Walker combines points 3 (morning sunlight) and 6 (exercise), by getting his exercise in the morning in a gym that faces the sun. I do a triple combo on the days that I run, by doing it first thing in the morning (thus knocking points 2, 3 and 6 in one go!).

Piggyback these habits on top of other routines we already do, as a way to remember them and make them stick. For instance, we could put a jug of water in the foyer, close to the place where we leave our keys after a walk, to remember to hydrate (point 4). Or we could leave a post-it (or our walking shoes) next to the journal we write in after the workday, to remind us that we want to go for an evening walk (point 8).
Of course, the usual disclaimers are in order: this post does not constitute healthcare advice (nor am I qualified to give such advice), and it is intended for informational purposes only. If any of the tips and habits above conflict with a pre-existing condition or treatment, or become painful somehow, consult with a healthcare professional. Et cetera. But, for most people, these habits should have wide safety margins.
The diagram below summarizes the tips and habits mentioned in this post. Feel free to use it as a memory aid!
Do you have other habits or routines you do at specific times in the day, to keep yourself focused, energized or healthy? Did you try any of the habits above? Did it have any noticeable effects? Let us know in the comments section below!
Header image by PxHere.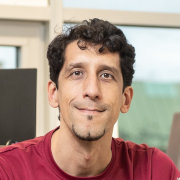 Luis P. Prieto
Luis P. is a Ramón y Cajal research fellow at the University of Valladolid (Spain), investigating learning technologies, especially learning analytics. He is also an avid learner about doctoral education and supervision, and he's the main author at the A Happy PhD blog.