POSTS
Tiny practice: Boost your workday happiness with natural spaces
by Luis P. Prieto,
- 2 minutes read
- 261 words
We often come up with complicated and costly schemes to improve our lives (buy that new gadget, watch that new show everyone is talking about), when simpler zero-cost solutions may have better chances of actually having a positive impact. In another tiny post, I share a quick tip on how to enhance your lab/work-life by using natural spaces. This idea will also be familiar to long-time newsletter subscribers, as it was an early "newsletter exclusive".
Just do this: Change your habits to include more natural spaces. Take a detour through the park on your way to the lab, do your breaks in the garden behind your building, go to a nearby forest to read that neverending pile of scientific papers… the possibilities are endless, and the cost is usually zero.
"Forest bathing" (in Japanese, shinrin-yoku) now has a lot of science backing its mental (and physical!) benefits1, from improved mood or alleviation of anxiety/depression symptoms, to better cardiovascular function or immunity. Even tiny exposures to nature have measurable effects. Try it out!
Did you try this practice? Did it work? What is your favorite way to leverage nature to add a little happiness boost in your daily life? Let us know in the comments section below, or leave a voice message!
Header image by DALL-E. Landscape image by Trey Ratcliff
---
Wen, Y., Yan, Q., Pan, Y., Gu, X., & Liu, Y. (2019). Medical empirical research on forest bathing (Shinrin-yoku): A systematic review. Environmental Health and Preventive Medicine, 24(1), 70. https://doi.org/10.1186/s12199-019-0822-8 ↩︎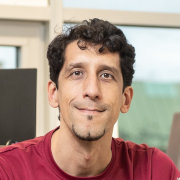 Luis P. Prieto
Luis P. is a Ramón y Cajal research fellow at the University of Valladolid (Spain), investigating learning technologies, especially learning analytics. He is also an avid learner about doctoral education and supervision, and he's the main author at the A Happy PhD blog.